Flurry Announces Top 20 App Spotlight Finalists, Top 3 To Be Revealed at SXSW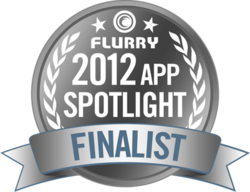 San Francisco, CA (PRWEB) March 08, 2012
Flurry, a company that helps developers make better apps, grow their app audience and monetize their business, today announced the top twenty finalists of its inaugural App Spotlight Awards, the top three winners of which will be announced at SXSW this weekend. Flurry Analytics, the leading app analytics service, and Flurry AppCircle, the leading data-driven app traffic acquisition network, have been adopted by more than 60,000 companies across more than 160,000 iOS, Android, Window Phone and HTML5 applications.
Flurry is partnered with VentureBeat at SXSW this year, to bring attention to up-and-coming apps through its Command the Spotlight contest. Flurry received over 700 application entries. Evaluated on innovation, market potential and business scalability, Flurry selected the top twenty finalists. From this group three winners will be announced at SXSW this weekend, with each starring at their own launch party hosted by Flurry at the Alcatel-Lucent Trend Lounge, located at the Downtown Austin Hilton Hotel. Winners will be interviewed by writers from VentureBeat or ReadWriteWeb, demo their product to a packed audience of industry peers and investors, and all attendees will enjoy catered food and cocktails. App Spotlight Launch parties take place for three days in a row on March 10, 11 and 12. Each starts at 4 PM and is open to all SXSW attendees.
Flurry is proud to work with so many talented application developers whose innovation is truly inspirational, said Simon Khalaf, Flurry president and chief executive officer. Our executive team carefully reviewed each application, selecting the top twenty apps that delivered an extra level of innovation and value to consumers. We cant wait to reveal the top three at SXSW!
Flurry App Spotlight Finalists (in alphabetical order)