JWT Explores Fear of Missing Out – Report, SXSW presentation spotlight how brands can leverage FOMO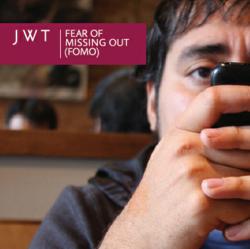 New York, NY (PRWEB) March 08, 2012
In its March trend report, JWT, the worlds best-known marketing communications brand, revisits the phenomenon of FOMO (Fear Of Missing Out), the uneasy and sometimes all-consuming feeling that youre missing outthat your peers are doing, in the know about or in possession of more or something better than you.
The report updates JWTs May 2011 trend report with new quantitative and qualitative data. Ann Mack, director of trendspotting at JWT, will discuss findings from the report at a SXSW presentation this weekend, FOMO: How Can Brands Tap into Fears Of Missing Out?
Weve always had a fear of missing out, but its exploding with the onset of real-time, location-based and social media tools, says Mack. For brands, FOMO has powerful potential, since it heightens participation on social media platforms and motivates consumers to do more. Brands can focus on easing FOMO, escalating it, making light of it or even turning it into a positive.
JWTs trend reports are the result of quantitative, qualitative and desk research conducted by JWTIntelligence throughout the year. For this report, JWTIntelligence interviewed experts and influencers in technology and academia, and conducted a survey in the U.S. and the U.K. using SONAR, JWTs proprietary online tool. The survey polled 1,270 adults aged 18-plus and 110 teens from Jan. 19-24.
Findings from the survey include: