Old-Time Radio Theater Show Brings 1930s Story to Life at Church of Scientology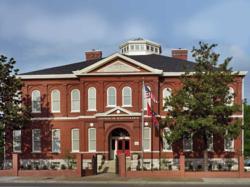 Nasvhille, TN (PRWEB) March 08, 2012
The popular 1930s pulp classic The Trail of the Red Diamonds was performed in a theatrical old-time radio style at the Church of Scientology on Saturday to an audience of more than 100 members of the community.
The plot focused on one Lieutenant Jonathan Daly who found an original manuscript by Marco Polo. Hes able to translate the tale well enough to discover the trail to a chest of fabulous red stones buried with the long-dead Emperor of China, Kublai Khan. Ignoring warnings, Lt. Daly follows Marco Polos words straight into a dark maze of betrayal, espionage and death.
This story mixes in a lot of reality in that the authenticity comes from Hubbards many experiences in China, says the Rev. Brian Fesler, Pastor of the Nashville Church of Scientology.
The story was written by L. Ron Hubbard long before the founding of the Church of Scientology in 1954, and while Hubbard is best known as the founder of Scientology, he is also one of the countrys most popular fiction writers, publishing hundreds of works over a career that spanned more than five decades. Authoring everything from science fiction to romance, action and fantasy to adventure, his name – and pen names – became synonymous with good reading.
That his stories were uniquely drawn from true-to-life experience, including then-rare voyages to Asia and the South Pacific, is likewise part of the Hubbard legend. He wrote a kaleidoscope of tales representing every imaginable genre: science fiction, fantasy, western, mystery, thriller, horror, even romance – action of all kinds and in all places. Hubbard once said this about writing, Adventuring is a state of mind. If you adventure through life, you have a good chance to be a success on paper.