Serving the Masses: How MyTennisLessons is Attempting to Revolutionize the Tennis Industry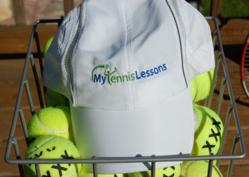 Austin, Texas (PRWEB) April 24, 2012
What started out as teaching summer tennis lessons for some extra cash, has turned into a nationwide company that manages over 80 tennis instructors in 15 different markets. In the summer of 2011 while still living in Maryland, Andrew Marcus Founder and CEO of MyTennisLessons.com, split time between teaching lessons himself and managing about 20 local instructors under the name DC Tennis Pros. Today, having relocated to Austin TX, Marcus and his company MyTennisLessons are proving to be one of the most efficient providers of tennis lessons.
MyTennisLessons allows players of all ages and skill levels to choose from a selection of qualified tennis coaches in their area, by simply inputting their zip code. The customer is then given customizable options, such as selecting a discounted lesson package, upon choosing an instructor. Further options include selecting the nearest court location, specific lesson type (private tennis lessons, group lessons, etc.), as well as a convenient date and time.
Early on MyTennisLessons recognized that there was a demand for tennis lessons at local courts that were affordable, convenient, and most importantly, enjoyable. Customers appreciate the value of being able to take a tennis lesson at a conveniently located court with an instructor that is reliable and prescreened says Marcus. No one wants to sift through dozens of unreliable sites such as Craigslist for a random instructor. Were a one stop shop for all of your tennis lesson needs
Customers however, are not the only party taking advantage of MyTennisLessons services. Before MyTennisLessons if you were looking to become a tennis instructor, you were resigned to traditional forms of advertising such as word or mouth, limiting your reach. MyTennisLessons understood that it was difficult for a tennis coach to separate themselves from the pack, especially since many instructors have full time jobs and dont have time to adequately advertise or market themselves.
MyTennisLessons takes care of an instructors advertising, marketing, online billing, and customer service needs. By providing these services, MyTennisLessons allows instructors to focus on what they do best, teach tennis lessons.
Clayton Branche, who gives tennis lessons in DC with MyTennisLessons and is a current student at John Hopkins University, appreciates the flexibility MyTennisLessons allows him. The personalized scheduling is very appealing because I get the benefit of not having to sacrifice any of my academic or professional goals and I still get the opportunity to make some money explains Branche. MyTennisLessons contracted instructors range from current college players and students like Branche, to former touring professionals trying to support a family. The personal aspect of the business is not lost on Marcus. Many of our instructors have full time jobs at an office or tennis club, but are grateful for the additional business we are able to get them during their free time
Many instructors, first with DC Tennis Pros and now with MyTennisLessons, have taken full advantage of the chance to supplement their income, provided by Marcus and his team. The extra money I have made from teaching tennis lessons has been a great way to augment my income claims Branche, Although I work other jobs to make money to cover my basic (non-college) expenses, the money I get from tennis usually goes towards allowing me to have the flexibility enjoy weekend outings with my friends
Whether providing tennis lessons in Los Angeles, Honolulu, or Miami, Marcus and MyTennisLessons are hoping to have a similar nationwide impact on the lives of not only tennis instructors, but the thousands of tennis enthusiasts living in the US. Even though we are working towards becoming a nationally recognized brand, on a more basic level we enjoy connecting with others who are as passionate about tennis as we are.